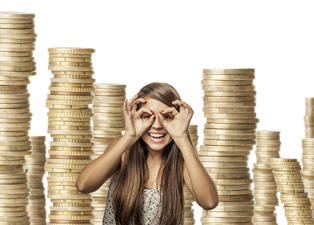 A Penny For Your Thoughts?

 GREAT NEWS: Market research companies are paying DOLLARS for teens' thoughts – NOT PENNIES! Teens' opinions and insight are valuable to market research companies and these companies are willing to do whatever it takes to obtain honest feedback about their products and services from teens.

 TAKE 5! Here are 5 compelling reasons why you should make money taking surveys:
1YOU CAN WORK FROM HOME – OR ANYWHERE! Since market research surveys are online, you can complete these surveys while you're at home or at school. Since you won't have to meet a market research representative, you don't have to worry about living close to a market research company or having adequate transportation.
2NO JOB INTERVIEW REQUIRED! As long as the market research representative is recruiting and you meet the right criteria for the survey, YOU'LL BE HIRED. There are no difficult job interview questions and there is no pressure to outperform other job applicants.
3YOU CAN START MAKING MONEY WHEN YOU'RE 13 YEARS OLD! Unlike most paid job opportunities that require teens to be 16 years or older, market research companies hire teens who are 13 years old or older. This will provide you to get a jump start on your savings!
4SET YOUR OWN PACE AND SCHEDULE. You determine your own hours. You can answer survey questions in the middle of the night, early in the morning or at ANY TIME! You will be in control of your own destiny when you set up your market research schedule. Taking market research surveys offers so much flexibility that you will be able to complete surveys if you're attending school full time or if you're working another job!
5YOU'LL HAVE A VOICE IN THE PRODUCTS OF TOMORROW. By providing companies with your honest feedback, you'll be providing companies with the information needed to make products better than ever! Your opinion really matters and that is why completing market research surveys is such an incredible opportunity for all teens.

 Here is how paid market research surveys work: The market research survey company will begin by asking you to register and complete a member profile.
VERY IMPORTANT TIP #1:
Never release information about your social security number when completing this profile. After you submit your profile, you will most likely be required to confirm your registration by email.
VERY IMPORTANT TIP #2.
You must confirm your registration by email or you will not be a verified member in the market research company's database. If you are not a verified member in the market research company's database you will not be recruited to take future surveys. After you confirm your registration by email, you will be emailed with surveys that match your profile. A typical survey request will include the time requirement and compensation for the survey. Expect to spend 15-20 minutes per survey on average.

 How much will you get paid? Payment for surveys can vary. Market research companies pay teens four different ways:
1CASH. You can expect to be paid anywhere from $1 to $250 per survey.
2POINTS. These points add up quickly and can be redeemed for some incredible prizes.
3SWEEPSTAKES ENTRIES. You'll be entered to win some very expensive prizing.
4PRODUCTS. Very frequently, you will be sent cool new products to try and evaluate.

 Tips and tricks for earning the best possible income taking surveys:
1SPREAD YOURSELF OUT. Register with 3 or more market research companies to increase your chance of getting surveys. Since all of the market research companies host different surveys, registering with multiple companies is the smart way to increase your income.
2RESPOND TO SURVEY REQUESTS QUICKLY. If it's a good survey, space usually fills up pretty quickly. If you respond to a survey invitation immediately, you will be the one selected!
3UPDATE YOUR PROFILE. Has anything changed since you completed your registration? If so, update your profile because your profile is used for survey selection.

 Beware – not all market research companies are created equal! Before registering with a market research company, CHECK THEM OUT!
1DO NOT PROVIDE CONFIDENTIAL INFORMATION. Never disclose your social security number, credit card numbers or bank account numbers.
2DO NOT PAY A MEMBERSHIP FEE. Reputable market research companies do not require membership fees.
3IF IT'S TOO GOOD TO BE TRUE, IT'S PROBABLY TOO GOOD TO BE TRUE. Beware of inaccurate claims and false promises.
4READ PRIVACY POLICIES AND TERMS CAREFULLY. If the company does not post a Privacy Policy, sells information to third parties and/or does not specifically provide you with information on how you will be compensated, you should NOT be working with this company.

 Market research companies that rock! TeenFreeway carefully reviews all of the market research companies who are recruiting teens for surveys. You can find these opportunities listed on our Teens Make Money page.